A LEBANESE-American porn star who once divided the Muslim community for wearing a hijab during a sex scene has done it again, although this time it's a footballer bearing the shame.

Mia Khalifa tweeted an image of a series of conversations sent to her via Twitter on Monday.

What has made this such a scandal is that it was a high profile American footballer on the other end.

Khalifa posted a screenshot of a number of direct messages from Duke Williams, a 24-year-old who plays for the Buffalo Bills.

The messages, which were left unanswered by the 22-year-old until Williams' final attempt, started in February, and have continued until this week.

"I am in Miami," she responded to his last request. "With my boyfriend," before adding a rather blunt aside.

Soon after, she outed the footballer.

"Warning: Trespassers in my DM's will be shot and hung out to dry in public," she wrote alongside the screenshot.
There was some serious political stuff I wanted to write about and still might, but this was funnier. Do you know where Duke Williams messed up? He treated a whore better than what she is. Now, Duke tried to walk the shit back. He tried to make the "oh, I just wanted to invite her to my pool party like I did a bunch of other people" play. Yeah, you just invite whores, who take dicks for money, over just to hang out. You want to get to know this ball-slurping trollop on a personal and spiritual level. Duke Williams just got caught slipping. He thought he was going to get this jihadi skank over to his house and he was going to play the pro-football player card and at least get a free blowjob. Once upon a time, football players were actually expected to have some damn sense. If you're going to hang out with prostitutes, don't advertise it, and don't put it out in the public. Maybe Duke is already concussed. Maybe dude is just thirsty as hell. But either way he messed up. And Jihad Jane, I mean, Mia Khalifa, pimped his ass, swatted him down like he was the hoe.
He should have just approached this whore as a whore and told her what it is. As soon as she talked this shit: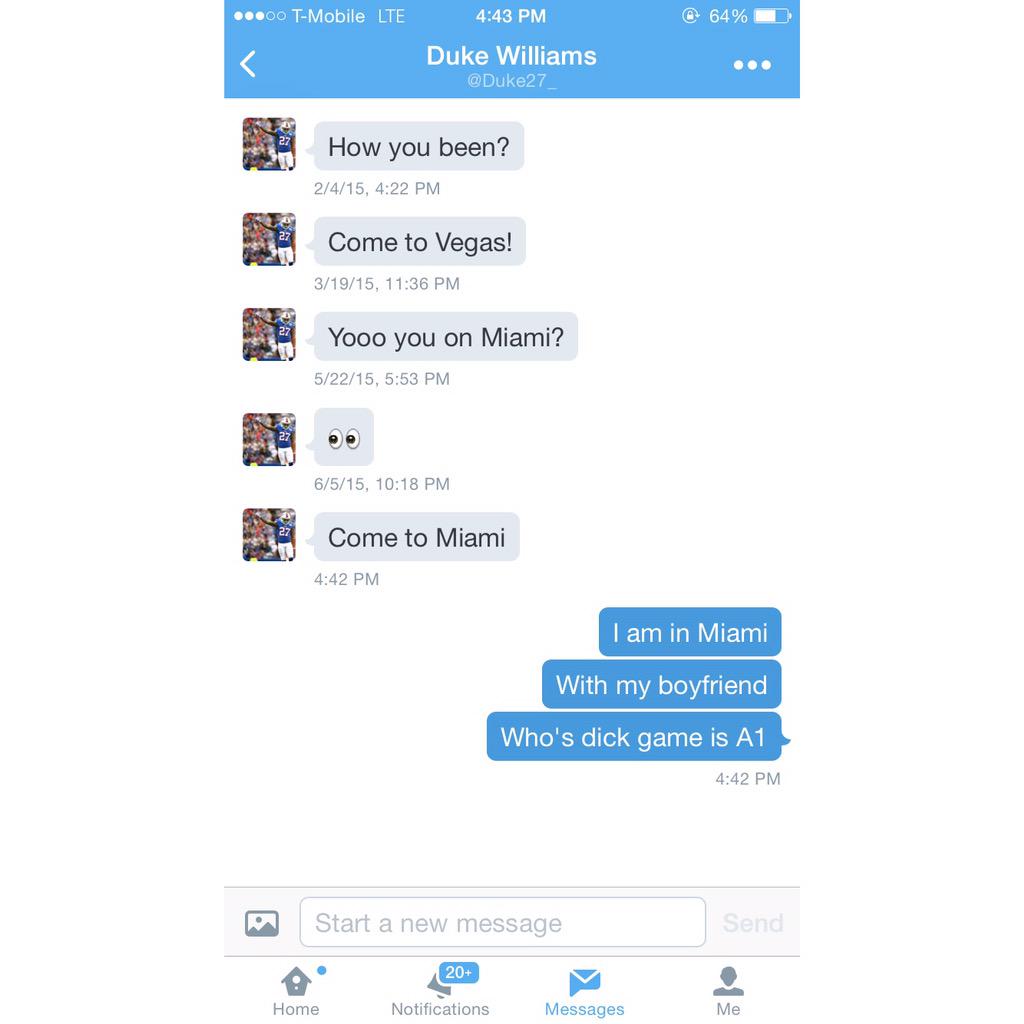 He should have detonated her fucking ego. She's got the p*ssy, he's got the money, she needs to bring her fake ass and fake tits over and get it. For an extra $1,500, he should have had her give out blowjobs as a party favor. Then she could take his money and his cum back to her suitcase pimp boyfriend with the A1 dick game. $3,000 to Duke Williams is an average Saturday night. $3,000 to Mia Khalifa is 6 hours of getting gangbanged on camera. But this guy either thought he was slick and was going to get a freebie, or he actually was trying to be nice to this magic carpet-riding floozy.
Duke! You have money! You're not supposed to have these problems!
As for Bin Laden's grand-daughter…of course she's a lying slattern, on top of being a thirst-trapper:
Khalifa has been called out for double standards, having previously said she wouldn't name celebrities who tried to bed her.

"I would never reveal that. … No way, I would never reveal that. That's rude!" she told Florida's 560 WQAM.
Yeah…expecting a whore to keep her word. You really thought that was going to work out?